Product liability prevention is about understanding what to do and how to do it to achieve product safety excellence. For that reason, this article provides information on what product liability is and how to prevent it.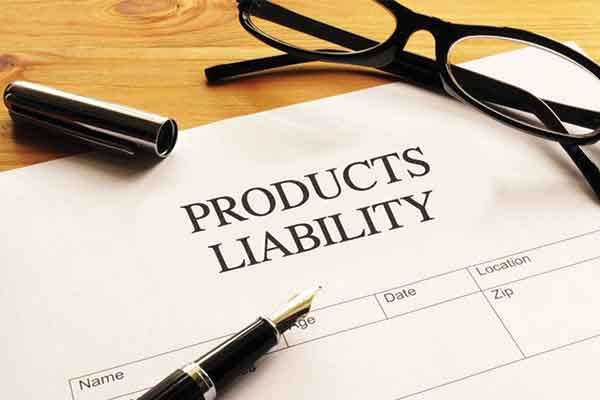 I. What is Product Liability?
Product liability describes an action in which a product user seeks to recover damages for harm from a seller or manufacturer when it is claimed that the harm resulted from a defect in the product. Thus, without a product defect, there is no product liability.
Product defects can be defects associated with the design, manufacturing or marketing of a product. Design defects exist when the product design presents an unreasonable risk of harm. Manufacturing defects happen when poor materials or workmanship are used to manufacture the product. Marketing defects, also known as failure-to-warn defects, exist when the product has an inherent danger, which is not apparent and could be mitigated with adequate warnings.
II. What is product liability prevention?
Product liability prevention means successfully applying appropriate processes and tools to eliminate opportunities for the occurrence of product defects and errors. It is much more effective and less costly to prevent product defects than it is to try to identify and eliminate them after they occur.
The investment in product liability prevention activities must start at the earliest stages of product concept review because altering sketches and drawings is easier than changing tools and equipment. Also, the longer it takes to uncover a design flaw and address it, the greater the damage to the company.
III. How to prevent product liability?
Product liability prevention is about understanding what to do and how to do it to achieve product safety excellence. In this regard, there are seven essential elements that make up a comprehensive product safety program:
Technical collaboration
Concept evaluation
Design qualification
Supplier qualification
Product qualification
Supplier quality processes
Strategic auditing.
These elements, if in place, can help a company improve development costs, schedules, profitability and consumer loyalty and trust. However, even if one of the elements is missing or inadequate, the safety of the product design is jeopardised, and product liability may become a significant issue.
#1. Technical collaboration
Technical collaboration represents communication and information exchange with the outside network of knowledge resources. It's necessary when executing a new and unusual product concept. As knowledge resource tools can be mentioned the following:
Public recall information databases (e.g., NEISS)
Certified laboratories and consultants
Partner supplier input
Benchmarking and competition activities.
These tools can help ensure thorough evaluations of new product concepts that will keep your products state-of-the-art with respect to product safety.
#2. Concept evaluation
Concept evaluation is the earliest stage of product design and development. It occurs when the product is only an idea defined by sketches and brief descriptions. At this stage, it is imperative to thoroughly evaluate the product concept and make any changes and corrections in order to have safety designed into it. If done at a later stage of product development, more time, money and effort would need to be invested in ensuring an inherently safe product.
To evaluate the product design concept, you must first perform hazard identification. To do so, you can use this list of generic hazard categories to develop your hazard evaluation checklist. The checklist is an evolving document that helps you ensure that thorough evaluations occur for all potential hazards. It must include hazard information, relevant product safety standards and data acquired from the technical collaboration activities. Once the hazard identification has been completed, you need to assess the foreseeable use and misuse of the product and do a risk assessment to determine the risk acceptability. In the end, the concept evaluation should be able to provide answers to the following questions:
Is the product reasonably safe for use?
What extreme environments might the product see?
What standards and regulations must be satisfied?
Are there any warnings or instructions that should be considered?
What can the user do with the product that would be considered foreseeable misuse?
#3. Design qualification
Design qualification is the process of confirming that the product design satisfies all safety, reliability and manufacturability requirements. To review the design for safety, you can use a safety checklist. This tool can help you ensure that the product design is evaluated thoroughly and accurately for safety risks.
However, ensuring safety is not sufficient. You also need to make sure that the product is reliable. This means that the product must perform its specified function satisfactorily for a specific period of time under specific operating conditions. To assess the product reliability performance, you need to consider the following:
Functional performance
Product life
Shelf life
Battery life
Environmental conditions
Redundancy
Fail-safe design.
Furthermore, product safety and reliability are highly dependent on the manufacturing process capability. If the manufacturing process cannot deliver a safe and reliable product, the product design is not qualified. To determine if the manufacturing process is capable, you need to perform a process capability analysis. At the end of the analysis, the process must be well-documented and centred and have acceptable variation.
Lastly, you need to create a product safety specification. This is a written document that describes all the testing and evaluation requirements the product must fulfil to be considered safety-qualified for consumer use. Test labs use the product safety specification to ensure that all mandatory tests are performed correctly.
#4. Supplier qualification
The fourth essential element for product liability prevention is supplier qualification. The latter represents the process of verifying your supplier's capabilities, capacities, controls and commitment. You can qualify your supplier(s) from a product safety and quality standpoint by performing a quality systems audit. This tool includes the use of a checklist to ensure that the audit is thorough and complete. The main objective is to assess your supplier's probability of delivering a product that consistently fulfils all safety, reliability, quality, cost and schedule requirements. Read our post on how to pick a quality supplier to learn about the eight signs that distinguish good from bad suppliers.
---
Keep all your suppliers in check and always fully compliant with applicable regulations. Facilitate supplier compliance management with Clever Compliance.
---
#5. Product qualification
Product qualification relates to documenting design and process and test conformance. This process includes the following steps:
Documenting the production process
Manufacturing a production-representative product sample
Testing the sample against all product safety, quality and reliability requirements
Achieving acceptable test results
Documenting all test results.
Once all that has been done, the product is considered qualified and ready for production.
#6. Supplier quality processes
Verifying your supplier's process performance is crucial. For that reason, you need to go through the supplier quality process. This process is all about managing suppliers in order to verify error-prevention effectiveness and production process performance. The end goal is to obtain maximum results with minimum effort while keeping primary ownership for quality with the factory making the product. To complete this process, you need to perform all of the following activities:
Certifications (e.g. product certification, personnel certification, process certification and supplier certification.)
Error avoidance implementation (a.k.a. Poka-yoke implementation): Structuring the manufacturing process with constraints designed to prevent incorrect operation or operator mistakes.
Performance metrics (e.g., the total cost of quality and process average defective rate) and trends
Management reviews: Periodic meetings that a manufacturer has with the management of a supplier to cover basic agenda items.
#7. Strategic auditing.
Strategic auditing is about monitoring, confirming and improving the effectiveness of the product liability prevention systems. It helps measure supplier performance, assess customer complaints, analyse defects and build a product safety and quality knowledge database.