All five tools for CE marking of products that we will present below are included in the state-of-the-art Global Product Compliance Management System developed by Clever Compliance. These compliance tools are particularly suitable for small and medium-sized enterprises (SMEs) and large market players with compliance departments.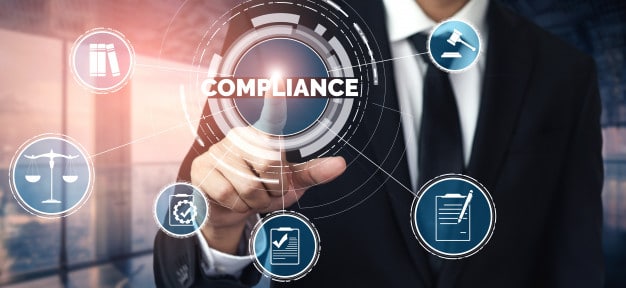 Tool I. Legislation finder
An innovative and user-friendly digital tool that helps companies save time and money so they can focus on innovation and growth. It enables users to find relevant information on how their products are regulated and provide them with a better understanding of their legal obligations.
The current version of the Legislation Finder covers the product regulation in Europe (CE marking). An upcoming update will also allow users to track their legal duties in the United States. Each piece of product legislation includes a summary of relevant information and links to the full legal texts.
The way the tool works is quite simple. It asks users a series of questions through which then analyses their products and lists all relevant product safety laws (e.g. CE directives and regulations). As a bonus, users can even customise the results by adding their own legislation to a product.
An integrated video tutorial is also available, showing users how to employ the database to track their legal obligations.

Tool II. Harmonised standards
This tool lets you explore the list of European harmonised standards, saving you a lot of time and energy in the process. The database allows a free search by names, titles and scope. Users can also select a specific legal act to shorten the generated result.
For instance, a user can find harmonised standards applicable to lung ventilators by merely writing 'lung ventilator' in the search box. Then, the unique compliance tool will generate a list of relevant standards.
Upon search, the digital feature provides a short description of each standard, including name, title, legal act, validity period and a reference number in the Official Journal.
Tool III. Documentation manager
This is another great compliance tool that is part of the product compliance management system of Clever Compliance. The Documentation Manager facilitates the product certification activities within a company.
This tool enables users to store and access documents digitally through a cloud-based platform. It helps them track, manage and store electronic documents in various formats (e.g. pdf, .doc and jpeg). The Documentation Manager decreases employees' workload and allows easy, continuous control, security and monitor of compliance documentation.
The digital tool can be used by multiple users of the same company simultaneously, allowing easy collaboration within various departments. Other benefits include remote access, lower IT costs and real-time updates to documents.
---
Learn here about five of the most common mistakes made by compliance officers, who deal with product regulation on a daily basis.
---
Tool IV. Documentation generator
The name of this tool is self-explanatory. The Documentation Generator allows users to design, generate and distribute important product compliance, project and other documentation.
An upcoming update will also enable users to set up document templates, streamlining the production of legal documents, increasing workplace efficiency and ensuring a high level of governance and quality.

Tool V. Documentation requirements
The last tool in the set of tools for CE marking of products is the Documentation Requirements. This tool is a key part of the process for the development and legalisation of a new product. It communicates specific information regarding the legal requirements a product must meet to become compliant with applicable legislation. This useful tool for CE marking of products makes sure that the user understands what is needed from a product and why it is needed.
For example, if a user wants to learn a product's requirements according to a specific legal act (e.g. LVD 2014/35/EU), they simply select the legislation in question from the drop-down menu. Then, all requirements are listed within seconds. Each provision is accompanied by a short description and a reference to a section of the relevant legislation.
Learn more about Clever Compliance